Want to know how to make extra money from home? You're in the right place.
Let's face it – everyone could use some extra cash, but that doesn't mean you need to go out and get another job. The most convenient way to get it is to earn extra money from home.
In the past year, I've been more serious than ever in my quest to make extra money from home with online surveys – and it's paid off.
I've also begun speaking to other bloggers about how they make extra cash. What I've found is there's actually loads of extra money jobs you can do from home!
Below, these bloggers share their ways to make extra money from home.

1

How To Make Extra Money From Home

1.1

Do Online Surveys For Cash

1.2

Start A Boutique Travel Agency

1.3

Scan Your Shopping

1.4

Become A Virtual Assistant (VA)

1.5

Become A Search Engine Evaluator

1.6

Do Network Marketing

1.7

Teach English Online

1.8

Do Matched Betting

1.9

Become A SEO Content Specialist

1.10

Become An Online Content Strategist

1.11

Offer Social Media Services

1.12

Become A Catsitter
How To Make Extra Money From Home
Do Online Surveys For Cash
David from Paid Surveys Fanatic says:
"I've tried many ways to earn extra money from home, from freelance writing to picking up work as a virtual contractor to doing odd jobs on Fiverr, but the best way for me is paid online surveys.
Here's the thing, the other ways to make extra money online can be far more lucrative than doing surveys, but I've never had enough passion or drive to pursue them any further. As a result, I end up with an odd job here or there, but never end up earning money consistently. But paid surveys are different.
For example, with
Toluna
, I receive multiple survey offers per week. The surveys are quick and easy, and if I don't receive offers with Toluna, I look at
Swagbucks
, then
LifePoints
, and the list goes on. Anyone can do online surveys for money, and you can get started right now.
You can read more about making money with paid surveys
here
."
Start A Boutique Travel Agency
"After a very unsuccessful corporate career, I accepted a 'gig' in South Africa to become a Tour Leader for trips all around South Africa. From working as a tour leader I got the idea to start my own boutique travel agency focusing on highly customized travel itineraries for travellers to Southern Africa.
All the lodges, safari companies, rental car companies, hotels, guesthouses, B&Bs can be contacted for tour organizer rates once you've established your company. Since I had worked as a tour leader before, I knew the country, routes, points of interests of South Africa very well so it was quite easy for me to design and organize itineraries that covered all of them.
When I first set up my company, I was more of a digital nomad actually because I wanted to visit all the places that I recommended. Starting a boutique travel agency in South Africa is maybe not your idea of 'working from home' but I know companies like 'Travel Councellors' let you set up your business from home and you can use their systems and marketing. All you would need to do is to get your IATA certification."
Scan Your Shopping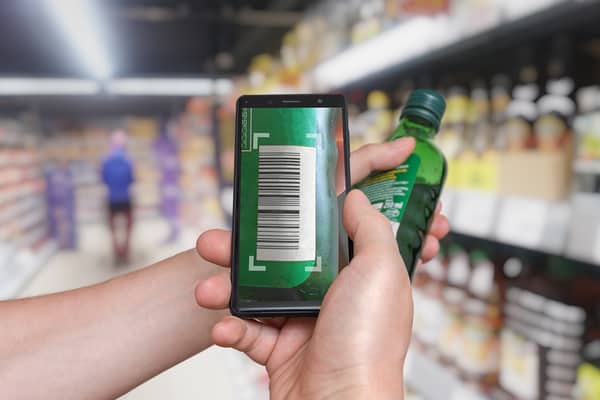 "As a stay at home mum, I'm always looking for ways to earn extra money on the side. I've spent hours at times scouring the internet for how to earn extra cash from home. I've found surveys to be a great option, but they only take you so far.
I first heard that you could earn extra income just by scanning your shopping from a friend. We were out having coffee when she scanned the barcode of her banana bread with a handheld scanner. I thought she was counting calories with my Fitness Pal! It turned out every time she scanned a product, she received a few cents added towards her account. I wanted in.
I signed first signed up to IRI Shopper Panel and received my scanner a few weeks later. The hardest part of this is remembering to scan everything, however I've found it to be a pretty good supplement to my income. If you're looking how to make extra money on the side, this is a simple and effective way."
Sign up to IRI Shopper Panel here and start making money!
Become A Virtual Assistant (VA)
Emma from Kiwi Money Mum says:
"If you're looking how to earn extra money from home, a great way is becoming a virtual assistant. My first real job making money from home was as a virtual assistant for my former employer. I'd stayed in touch with my colleagues and manager on LinkedIn and saw them mention a new project in my former department.
I casually reached out by email and let the project head know that I was available for remote work if they needed any help. He replied immediately – they were interested! I worked out an hourly rate that was fair and covered my expenses and we went from there. That project lasted six months, and I was then referred more work.
The income I earned more than covered our living expenses, and I even travelled for three months with my husband and toddler while working on the project.
If you are looking for a remote job, make sure you keep in contact with former employers and colleagues on LinkedIn or Facebook. Let them know you are available for work.
Often trust is one of the factors keeping employers from hiring remote or virtual staff. If you have a history of good work at a company, that'll go a long way to eliminating any concerns around trust, plus your onboarding will go more smoothly. In this business, your work contacts are a huge asset – use them!"
Become A Search Engine Evaluator
"Working as search engine evaluator or web search evaluator is a good way to make money from home. Search engine evaluators rate search engine results according to search engine (e.g. Google, Bing, Yahoo) requirements. Although the search engines rely heavily on algorithm when evaluating results, the search engines are still not 100% foolproof which is why it still needs human to weed out these flaws.
Depending on the country you're in, a search engine evaluator job can get you between $7-$25/ hour. Aside from the decent rate, the job offers flexibility in terms of working hours and location. Which are ideal if you have a full-time job, or prefer working from anywhere.
The only set back of this job is there might not be enough projects from time to time and at the most, you can only work 20 hours per week. And since most companies that offer search engine evaluator jobs have non-compete clause, this means that you can't work for other companies at the same time and depend on this job as main source of income.
As for the requirements, understanding how SEO works is a great advantage. Although generally, search engines and computer knowledge and analytical skill should suffice."
Do Network Marketing
"Network marketing often cops a fairly negative reaction, however with the right company, it can be an incredible source of income from home. I started my direct sales beauty business when I was on maternity leave from my psychology profession. I joined for the discount and soon discovered what a profitable opportunity it was once I started sharing the products and the business itself.
Not only do you need to be passionate about the products, you also need to treat it like an actual job to be successful. Many people write off direct sales quickly, expecting it to all fall into their lap easily. It certainly is not a get rich quick scheme.
Like any profitable business, it takes time to build up trust when starting something new. This is a relationships business and you need to be genuine and authentic.
I run the majority of my business online, which means working harder to build relationships. People don't buy just because they like the products. They are buying because they like and trust you, so being able to stand out, deliver exceptional customer service and have fun with your business is what is going to set you apart."
Teach English Online
"Hands down teaching English online is one of the best ways to earn extra cash, and even earn a full time income, from home! If your native tongue is English, you have a Bachelors Degree, and are willing to purchase a cheap TEFL to get certified, you can start teaching English online from home.
You don't need to be an actual English teacher as most students are simply looking to practice conversation for their upcoming travels or to get a promotion at work. You'll speak with students from around the world and all you need is a headset, a laptop with a camera, and a fun personality.
Some companies pay $10 an hour and some pay upwards of $20 an hour. This is a great way to earn some extra cash from home and it literally just involves you speaking to other people from different countries!"
Do Matched Betting
"Matched betting has to be the fastest and easiest way to make money from home. You can start today and be up a few hundred after just a couple of hours work.
Matched Betting is a very simple way to make money by taking advantage of free bet promotions that are run by sporting bookmakers to attract new customers.
Don't worry, there is no gambling involved and this is a totally risk free way to make a good second income, some people even do it as their full time 'job'.
Bookmakers often run promotions like 'Bet 5 get 30 in free bets', by matching these bets with the opposite outcome on a betting exchange we can earn around 80% of the value of the free bets, so in this example, we would make around £24 profit.
To do this would take around 15 minutes so it is a pretty awesome hourly rate."
Become A SEO Content Specialist
"Almost 2 years ago I left my long-time corporate job to work from home. I had a travel blog that I wanted to monetize but unfortunately that was slow to take off so I needed to earn income some other way and I wanted to do this from home.
I had signed up to several Virtual Assistant FB groups and at the same time had been taking a course in SEO (Search Engine Optimization). I applied for a job writing SEO content which I got and was soon being praised for how well my content was ranking for my client. This gave me the confidence to apply for more SEO Content roles.
By the way for anyone who doesn't know what SEO is – it's basically writing content in a way that it ranks on Google.
Through word of mouth I then began being approached by people directly asking if I could write SEO content for them. I am now at the point that I am booked up round 6 months in advance with regular client work booked in 12 months in advance.
For anyone considering working from home, I'd say go for it! Think outside the box and think about what you're good at or what you may like to retrain in. I didn't even know what SEO was 2 years ago.; but in the process of learning how to improve my travel blog I learnt about it and discovered I actually had a bit of a knack for it and really enjoyed it."
Become An Online Content Strategist
"I work from home as an online content strategist.
I work with large organisations and government departments to help them untangle their website content. A lot of this work comes through content agencies or by partnering with web designers and developers. We respond to a request for quote (RFQ) or via a competitive tendering process. I sub-contract my services to these agencies and developers. For smaller projects, people approach me directly, usually via a referral in my network of contacts.
If you have a skill and experience in an industry that outsources work, tap into it through past and present colleagues, teachers and lecturers, paid membership groups, and agencies you can subcontract to. What starts as an after-hours 'side hustle' to earn extra income could grow into a viable, long-term, freelance business opportunity like it did for me.
Being location-independent has meant that we've been able to move from Melbourne to Daejeon in South Korea for a few years. My husband is Korean (visas sorted!) and we have the chance to raise our son in a bilingual environment. I am so glad I took a chance a few years ago and reached out to my networks and joined a paid Facebook group – both of these actions have helped me to steadily grow my business ever since."
Offer Social Media Services
"A great way to make money from home – in your own time, is to offer to manage social media for those who are tome poor. You can quickly develop a portfolio of clients on Instagram, Pinterest Facebook, or Twitter after you have first mastered the social media platform following and can demonstrate REAL growth engagement.
Be sure to demonstrate how you will ensure more people will land on their website and how they should convert into paying customers. Here are a few social media services you can offer as you work from home:
Create engaging content- sometimes business owners will have the time to post things to Facebook, but they just do not know how. So, you can develop the material, and allow them to share it and comment with clients.
Schedule in content – You can work several days, weeks, or even months ahead, and offer to schedule in content for the owner – and charge a fixed rate to do so. E.g., 1 Facebook post, per day and 1 Instagram photo. This way, they can choose to pay you month-to-month, or even better 3 months in advance.
Whatever social media services you offer, be sure to provide the client with a report at various intervals, so they can see your progress, and want to keep you hired!"
Become A Catsitter
"Working as a writer/blogger, both has its perks and disadvantages. Yes, you own your time, you get to finish at your own pace but it gets too routinely as well. While distractions can have a negative connotation, it is sometimes necessary for writers to have to bring fresh ideas.
Opting to take care of cats at home is one relaxing way to be distracted and to earn extra money. It is the norm for a catsitter to visit the cat at its home, however, requesting the owner to take it to your place is a better option. It might take a while for the cat to be "at home", probably a day or two, just continue offering food, and playing with it to get its trust. Since cats sleep 16 hours a day, you can almost stick to your usual work schedule. When you feel like breaking the routine, take a feather wand and "annoy" the cat.
Cats are also known to generally make you feel good and happy/relaxed, so it's a win-win situation. The cat is taken care of and you get to earn extra money for doing so. Nowadays is easier, there are online services you can sign up to to find people who needs a cat sitter."